Tenth Law of Branding (Branding by Aesthetic)
(one of the best books discussing marketing aesthetics is by Bernd Schmitt and Alex Simonson; the title is the same: Marketing Aesthetics)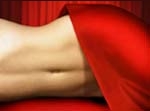 The great Eighteenth Century German Philosopher Alexander Baumgarten invented the word Aesthetics from the greek word aisthetikos (meaning "perceptive, especially by feeling"). Baumgarten coined the term to refer to a special branch of philosophy that aims to produce "a science of sensuous knowledge in contrast with logic, whose goal is truth.
People's love of aesthetics, a total sensory experience, has provided Brands a new avenue to achieve acceptance and popularity. Most branding experts have realized that the aesthetics of products are sometimes more effective than the products themselves.
Lalique bottles originally were inexpensive bottles that held perfumes. I personally feel the story of Lalique is the most classic and the best example of selling aesthetics.
Lalique Glass from the Glass Encyclopedia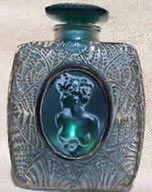 Lalique crystal is a collector's dream. Since the early 20th century when René Lalique started to design perfume bottles for François Coty in Paris, collectors all over the world have been searching for the most beautiful pieces. For them, and to celebrate the launch of our own first perfume in 1993 in the beautiful honeysuckle flacon, Lalique creates every year a limited edition, signed, and numbered. These pieces of art are hand made by our master glass workers.
Rene Lalique (1860-1945) was a French "art nouveau" jeweler and sculptor who became interested in glass in his 30's and rented his first glassworks at the age of 49 (in 1909) near Fontainbleu in France. Over the next thirty years he became the world's leading art glass designer of the art deco period.

In the 1920's and 30's his work inspired glass-makers around the world, and it has probably been copied more than any other glass designer. His contemporaries in France who produced glass which they advertised as "au style Lalique" included Sabino, Etling, D'Avesn, Genet & Michon, and others. Overseas some of the finest hand-pressed glass made during the 1930's used patterns based blatently on Lalique's designs. Two of the best examples were the Phoenix Art Glass Company's "Sculptured Art Glass", from Pennsylvania and James A Jobling's "Opalique" from England.

Lalique opened his first retail salon in Paris in 1905 selling jewelry and decorative pieces, next door to the Coty perfume premises. Coty comissioned perfume bottles from his friend Lalique, and these commissions soon grew into a thriving glass business for Lalique.

At the Paris Exposition des Art Decoratifs et Industriels (source of the name Art Deco) in 1925 Lalique won several medals and had a whole marquee displaying his glass in the "new style".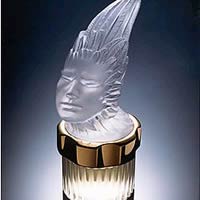 PHOENIX
2000 LIMITED EDITION


Lalique glass is a collector's dream. It is ALWAYS marked in or on the glass. There is no such thing as "unmarked Lalique". Also, the glass made during Lalique's lifetime can be easily distinguished from later Lalique because it is marked "R. Lalique" as opposed to the post 1945 mark "Lalique". Some early "cire perdue" pieces were marked with Lalique's thumbprint in the glass.

Rene Lalique's opalescent glass was very popular and commercially successful. It has a very subtle blue colour when light is shining onto the piece, but takes on a beautiful "honey" colour when light shines through it (hold it up to the light). See our page on opalescent glass.

You can still buy new Lalique glass made to many of the original designs, using very high quality crystal glass, both in clear and a limited range of translucent colours. It is expensive but you can find it on display in high class glass departments and stores world-wide. When buying glass marked "Lalique", remember that you may be able to buy the same piece new, and check out the prices. Further down this page you will find a list of some prices obtained at auction for Lalique glass.
['Suzanne' an Opalescent Glass Figure,Design 1925 modelled as a Female nude ]
"René Lalique besaß die Gabe, die Welt vor Schönheit erschauern zu lassen".
(( Henri-Georges Clouzot ))
The strategy is about creating sassy, desirable visual images, sophisticated refinements, timelessness, smart colorful designs, soothing, stylish, and/or distinctive identity for your Branded product.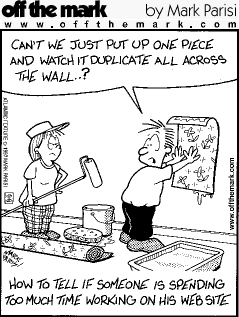 Here are some phrases and adjectives that differentiate aesthetics products:
They are soft, relaxing, contemporary, accentuate natural elements, boast an unique quality, exhibit superb operations, famous for attentive service, superb craftsmanship, positive impressions, multifaceted personalities, sense of grandiose, and irresistible appeal.
They might come with enhancing emotional contact using high tech.
Communication theory and the research on the subject of persuasion provides a distinction between two kinds of messages, the central message and the peripheral message. The peripheral message concerns the tangential elements of the main message. These are about package, attractiveness of the presenter, the color of the room and/or the music. Aesthetics concerns the peripheral message.
Benefits of developing aesthetics Branding:
1) Aesthetics creates Loyalty
2) Aesthetics allows for premium pricing
3) Aesthetic has a higher message impact when you are concerned with advertising of the product

Luxury Consumers Around The World Are Very Similar
Libraries
Business News
Keywords
LUXURY CONSUMERS MARKETS RICH WEALTHY FINERY MONEY INCOME

Contact Information

Available for logged-in reporters only

Description

Luxury consumers in the U.S. and much of Western Europe are remarkably similar in many ways, especially in the emphasis consumers place on experiences, rather than something that one has or owns, according to a report released today by the Consumer Research Center of The Conference Board.
Newswise — Luxury consumers in the U.S. and much of Western Europe are remarkably similar in many ways, especially in the emphasis consumers place on experiences, rather than something that one has or owns, according to a report released today by the Consumer Research Center of The Conference Board.
The report was sponsored by Conde Nast Publications, Gucci Group, Gibson USA, The Ritz Carlton and Tru Vue and is based on an online survey of 1800 affluent consumers in the U.S., China, France, Germany, Italy, Japan, and the UK. Respondents were over age 18 and in the top 25% income brackets.
"Consumers have remarkably similar perspectives on how to define luxury," says Lynn Franco, Director of The Conference Board Consumer Research Center. "The largest share of luxury consumers (44%) and the largest share of consumers in each country most strongly agree that 'luxury is having enough time to do whatever you want and being able to afford it.' So, for luxury consumers worldwide, time is the ultimate luxury."
Time is the most highly valued luxury (named by 35% of respondents as best matching their personal definition of luxury), then life experiences (25%), followed by having comfort, beauty and quality (18%).
About one-fourth or fewer luxury consumers strongly agree that:
* Luxury is less about the material things one has or one owns and more about how one experiences life, a sense of happiness and satisfaction (26% strongly agree).
* Luxury is being comfortably well off and not having to worry about tomorrow (25% strongly agree).
* Luxury is the finer things in life that surround you with extreme comfort, beauty, and quality (25% strongly agree).
* Luxury is the "best of the best" in all aspects of your life (18% strongly agree).
Luxury consumers' favorite pursuits worldwide include high-tech activities and travel. High-tech activities, such as using a personal computer, the Internet, or a cell phone, rank as the most participated in lifestyle activities by nearly three-fourths of all luxury consumers. Travel comes next, with 69% of luxury consumers worldwide reporting an interest.
The most popular status luxuries owned across the countries surveyed were collections of antiques and rare items (30% of all luxury consumers report earning); original art, paintings and sculpture (31%); and vacation/second home (27%). American luxury consumers led in ownership of antiques or collections of rare items, while the Italian luxury consumers were more likely to own original art. The Italian luxury consumers also enjoy the highest share of vacation or second homes.
The next most widely owned status luxuries included collections of fine jewelry and watches (24%), fine musical instruments (22%), and collections of fine wine and spirits. Chinese luxury consumers led the other countries in ownership of fine jewelry and watches and in fine wine and spirits ownership, while the French consumers have the highest incidence of fine musical instrument ownership.
Compared with luxury consumers living in other countries, Japanese consumers trail in their participation in the various lifestyle activities included in the survey, such as photography (enjoyed by only 30% in Japan, compared to the international average of 59%); avid book reading (35% versus a 58% average of all countries); listening to records, tapes, DVDs (37% versus 56%).
Other key differences across cultures include:
* American consumers are noted for their interest in cable/satellite television, pets, physical fitness and health foods, electronics, and investing in stocks and bonds.
* British consumers are distinctive in their strong interest in Internet and cell phone usage, videos/DVDs, wine, gourmet goods, health foods, avid book reading, and cable/satellite TV.
* German consumers are more involved in reading books, attending cultural events, gardening, and home furnishings. Italian consumers share many of the same interests as those in Germany, but they are more active in travel. French consumers are similar to those in Germany and Italy, too, but with an even greater interest in gourmet food and wine.
* China has the greatest interest in photography, electronics, and home furnishings.

"For the largest share of luxury consumers, luxury is not specifically related to how much something costs or what brand it might be," says Pamela Danziger, President of Unity Marketing and author of the report. "Luxury is highly personal and something the individual interprets and judges for him or herself. But while luxury is highly personal and separated from price and brand, luxury is expected to be something with a quality that sets it far above the ordinary product."
Luxury is noticeably a cut above the average, as 81% of luxury consumers agreed. Luxury is about the feelings the consumers get in enjoying their luxury lifestyles, so it is very much an experience, rather than a material good one has or one owns. Luxury is being able to pursue one's personal passions and interests.
Because it is defined personally and about one's experience, luxury is something that everyone can partake in. Nearly three-fourths of those surveyed agreed that "luxury is for everyone and different for everyone." It is not exclusive to one class or group of people.
The vast majority of luxury consumers say they reject conspicuous consumption or buying to impress. The person who most matters when it comes to luxury is the individual and how he or she experiences, interprets, and feels about his or her own luxury lifestyle—not what some neighbor, colleague, or coworker thinks.
While brands don't necessarily define luxury, many luxury consumers look to the brand and the brand's reputation as a signal of quality. China is the only country surveyed in which a significant portion of consumers (46%) tend to agree with luxury being defined by the brand.
Source: The Global Luxury Market: Exploring the Mindset of Luxury Consumers in Seven Countries
Consumer Research Center Special Report, June 2007, The Conference Board
First Law of Branding ; Second Law of Branding ; Third Law of Branding ; Fourth Law of Branding ; Fifth Law of Branding ; Sixth Law of Branding ; Seventh Law of Branding ; Eighth Law of Branding ; Ninth Law of Branding ; Tenth Law of Branding ; Eleventh Law of Branding ; Twelfth Law of Branding