Search News
Vegan activists threatened a restaurant in the United Kingdom over its Valentine's Day menu
There is no scientific documentation of Zika-related birth defects in Africa, where the virus originated. What that means for a better understanding of the virus and its side effects
Moscow still sees most rebel-held cities as fair game for "liberation"
A French man sued Facebook for 20,000 euros
Based on evidence available, pregnant women may want to delay travel to areas where Zika is circulating, WHO says
Police warn against celebrating "decadent Western culture"
Would be a two-year emergency rule due to the migrant crisis
Kim Jong Un also makes an appearance in the video released by the Korean Central News Agency
The Pontiff is meeting for the first time with the patriarch of the Russian Orthodox church
First comes love, then come photos.
Donald Trump is at an all-time high in Republican support following his victory in the New Hampshire primary. The second-place finisher John Kasich is 40 points behind him in a new poll.
The girls, who both had a single gunshot wound, were found dead and were lying next to a weapon at Independence High School in Glendale, Phoenix.
This Valentine's Day will likely be the coldest one on record for much of the Northeast as an arctic outbreak over the weekend could bring sub-zero temperatures.
Frederic Durand-Baissas, of Paris, had his Facebook account suspended five years ago after choosing to post Gustave Courbet's 1866 'The Origin of the World', which depicts female genitalia.
Two-year-old chocolate Labrador Fernie has become the star pupil at Winford primary school, in Somerset, after he was taught to recognise commands on flash cards.
Three families united in their grief over the cruel murders of their relatives are suing the financial giant HSBC for allegedly aiding terrorism by laundering billions of dollars for Mexican cartels.
A Florida family has lost its third child to cancer. Erin and Benjamin Mading lost their ten-year-old daughter Isabella 'Bell' to a rare genetic cancer linked to Lynch Syndrome on February 6.
Apollo 11 astronauts left those scribbles inside the spacecraft that took them on their historic mission to the moon in 1969, but now the public will get to see them for the first time.
A compassionate story has emerged from China of an old man and his wife who have looked after a mentally ill homeless man for 35 years. They found Xue Zhen on the streets in Ruicheng County.
Thousands of Iraqi refugees who arrived in Finland last year have decided to cancel their asylum applications and to return home voluntarily.
Eight billion digital envelopes full of cash were sent and received in one day during Chinese New Year's eve. People have turned to digital apps to keep to tradition by sending red envelopes.
Sooz Meagher, 44, from Wicklow, Ireland, has launched an appeal to help find her dead husband's wedding ring which she lost after removing it from around her neck for the first time.
A video shows the reaction of sick children at C.S. Mott Children's Hospital, Michigan trying out the Oculus Rift, a virtual reality head-mounted display and truly believing they are riding a roller coaster.
Timothy Arthur Rehberg, 50, owner of I.C. Clean People Recovery Housing in Everett, Washington, was charged on Thursday with a single felony count of possession withA intent to distribute.
They attacked Uber for charging a fee of up to $2.30 per trip for industry-leading background checks, but the company didn't do the kind of fingerprint checks required of taxi drivers.
Anna Belysh, a 19-year-old from Russia, began practising the bizarre stunt after deciding she wanted to combine her two loves of archery and acrobatics.
The parents of 13-year-old Shamim Mullick claim their son was beaten by the headteacher at the Al Islamia Mission Boarding School in West Bengal after he left the grounds to meet up with them nearby.
U.S. Secretary of State John Kerry last night said a 'pause' in hostilities between Syrian forces and Western-backed rebels would begin in a week after a crisis meeting in Munich.
The woman, 29, from Omaha, Nebraska, says the driver dropped her off early one morning. His note said he wanted to snuggle with her 'under a blankie' while a storm raged outside (file picture).
A wild elephant went on a rampage through an Indian village in West Bengal leaving one man dead and three others wounded.
Timothy Burns, 44, of Texas, has been charged with four counts of second-degree felony sexual assault after police say he paid four girls, ages 14 to 16, hundreds of dollars to have sex with him.
A cache of unpleasant missives that were intended to wound rather than woo were found dating back to 1870 and will go on display at Birmingham Museum.
A Canadian military analyst is warning of the increasing technology threat from hi-tech maritime criminals. A report states that a drone air force could be a possibility.
Blacksmiths in China have put on a spectacular show using molten iron. Dashgua is a 500-year-old tradition which comes from central China's Hebei province.
Tiffany Hendra, an actress and model who spent 15 years in Los Angeles before moving back to her home state of Texas, previously worked in the adult film industry.
Visa is now a major shareholder in Square, the mobile payment services company co-founded and led by Jack Dorsey.
The first trailer for the remake of Roots was released on Thursday, promising all of the drama and heartbreak that captivated audiences nearly thirty years ago.
British mother Adele Allen, from Brighton, opted to have a lotus birth, which is the practice of leaving a newborn's umbilical cord attached rather than cutting it off near the stomach.
A researcher at the Natural History Museum in London described the genus Ivierhipidius from specimens with heart-shaped leg joints (pictured) collected in the rainforest in Belize.
The U.S. presidential candidate has more than once suggested the laws be changed in France and elsewhere so that victims of such attacks are able to defend themselves.
The shocking footage was captured by the daughter of the elderly victim, who set up a hidden camera at her home in Buenos Aires, Argentina, after a tip off from a concerned neighbour.
Twelve per cent of Baby Boomers have tried their luck on sites like Tinder, up from 6 per cent from three years ago. The study by US group Pew, looked at the online dating habits of 2,000 people.
Erectile dysfunction will affect more than half of men between 40 and 70. A survey by Superdrug Online Doctor found 80 per cent of women underestimated how common it was.
The Swiss Port fuel truck careered into JetBlue flight 891 at Logan International Airport after the driver failed to put it in park, police said.
Nehemiah Griego was 15 when he killed his entire family in New Mexico. Now 18, a judge ruled that he can be sentenced as a juvenile after he plead guilty and released from state custody at age 21.
Kensuke Miyazaki, 35, shook up Japan's conservative political scene when he sought to take a month's leave to help his then pregnant wife, a first for a male Japanese lawmaker.
An adorable three-year-old boy might just be the world's youngest barista. A YouTube video has gone viral showing Adler Webb crafting the perfect decaf cappuccino by his father's side at Bindle Coffee.
The unnamed Polish motorist drove his car off the end of a pier into the River Elba outside Hamburg because he did not realise he had to wait for a ferry to cross to the other side.
Colombian model Yeimi Rey, pictured, was arrested moments before she was about to board a flight to Miami from Bogota airport after she allegedly assaulted fellow model Carolina Munoz.
The map covers a portion of Pluto's surface that measures 1,290 miles (2,070km) from top to bottom, and includes the vast nitrogen-ice plain informally named Sputnik Planum.
Shocking pictures have emerged from China of a shop that sells genuine fur from animals kept in captivity. The images were recently taken on Lintong road in Xiaan, Shaanxi Province.
An enraged man left his three kids in his car on a busy California highway to attack another driver in an alleged road-rage incident. Dikran Gligoriu was caught on film assaulting another driver..
Hand make-up is the latest beauty craze taking Instagram by storm. The trend involves painting a made-up eye and brow on the back of one's hand using only cosmetics. The results are stunning.
Alexandra Mezher, 22, was killed after she tried to break up a knife fight at an adolescent migrant centre where she worked in Gothenburg, Sweden.
Kelly-Mae Hemphill (pictured), 25, was lying unconscious in Paulsboro, New Jersey. Narcan was approved by the FDA in November last year and can counter an overdose in two minutes.
An infographic has revealed some of the more striking contraband flyers have tried to smuggle through customs, from a voodoo ritual head in Haiti, to three landmines in New Jersey.
An Arizona woman is accused of biting off her ex-boyfriends ear when he tried to end their relationship. Police arrested Anntisha Honwytewa, 28, for aggravated assault.
Mrs Clooney accompanied her husband for talks over tea and coffee with German Chancellor Angela Merkel at the Chancellery in Berlin to discuss the migration crisis engulfing Europe.
Kanye West has launched a furious tirade at Taylor Swift on Twitter, calling her a liar for denying she knew nothing his new single Famous in which he calls her a 'b*tch' and raps about having sex with her.
Scientists from Icahn School of Medicine at Mount Sinai in New York found pregnant women who ingest high levels of foods with vitamin D lower their baby's risk of allergies by 20 per cent.
The 23-year-old Sports Illustrated star was completely nude aside from strategically placed Edge Shave Gel that was carefully sculpted into a bikini top and string bottoms.
Dante Soiu, 66, testified this week that he wanted his messages to show Paltrow, 43, unconditional love and friendship, and that he kept writing to the actress in the hope she might want to marry him.
Designed by a team in the Netherlands, the CF8 concept yacht has a 950 square foot pool in a gap in its body, plus eight VIP cabins and a showroom with nearly 1,100 square feet of space.
Computer scientists say as cloud computing allows machines to become more life-like, robots may become the 'perfect companion' and people may even go to court in a bid to marry their robots.
'Too many people right now are looking like a guy like Donald Trump and believing that that man has ever opened a Bible,' Beck said. 'That's the biggest crock of bullcr*p I've ever heard! We all know it!'
LetterOne, an investment vehicle from Russian billionaire Mikhail Fridman, has made a strategic $200 million investment in Uber.
The post Uber Gets Money from a Russian Billionaire Because Global Domination appeared first on WIRED.
The fitness apps are going fast.
The post Asics Buys Runkeeper in Another Shoe and Software Team-Up appeared first on WIRED.
Researchers have uncovered ties between the attack against Sony in late 2014 and more recent hacks, suggesting the culprits are still active.
The post Evidence Suggests the Sony Hackers Are Alive and Well and Still Hacking appeared first on WIRED.
This is the saga of bowerbird hanky-panky, a romance packed with more lies, illusions, and thievery than a soap operaawith none of the insufferable soft focus.
The post Absurd Creature of the Week: Meet the Bird That Lies and Tricks Its Way Into Sex appeared first on WIRED.
This is what networked music sounds like.
The post An Algorithmic Orchestra Plays Next-Gen Electronic Music appeared first on WIRED.
The only one who can step to the Merc with a Mouth when it comes to insults is Selina Meyer. But can you tell their barbs apart? Test your skills here.
The post Who Said It: Deadpool or Veep's Selina Meyer? appeared first on WIRED.
Google made some notable news yesterdayaby doing nothing.
The post Google's Hardware Endgame? Making Its Very Own Chips appeared first on WIRED.
A website hopes to teach women how to have better orgasms, backed up by data.
The post Silicon Valley Wants to Disrupt OrgasmsaWith Science! appeared first on WIRED.
Solar reflective paint aims to minimize the amount of heat a caras exterior paint absorbs.
The post Toyota's Lime Green Paint May Be Ugly, But It Can Cut Gas Bills appeared first on WIRED.
For bartenders and cocktail aficionados, carbonation of more than water is an exciting prospect.
The post Review: DrinkMate Carbonator appeared first on WIRED.
Steph Curry, James Harden, and even the TNT announcers are all getting the emoji treatment that fans can tweet all weekend long.
The post The NBA All-Star Game's 24 Superstars Get Their Very Own Emoji appeared first on WIRED.
With dozens of new hires, MTV News is getting serious about its future by seeking a return to its glory days.
The post MTV Wants You to Want Your MTV News All Over Again appeared first on WIRED.
Who says meet-cutes only happen in rom-coms?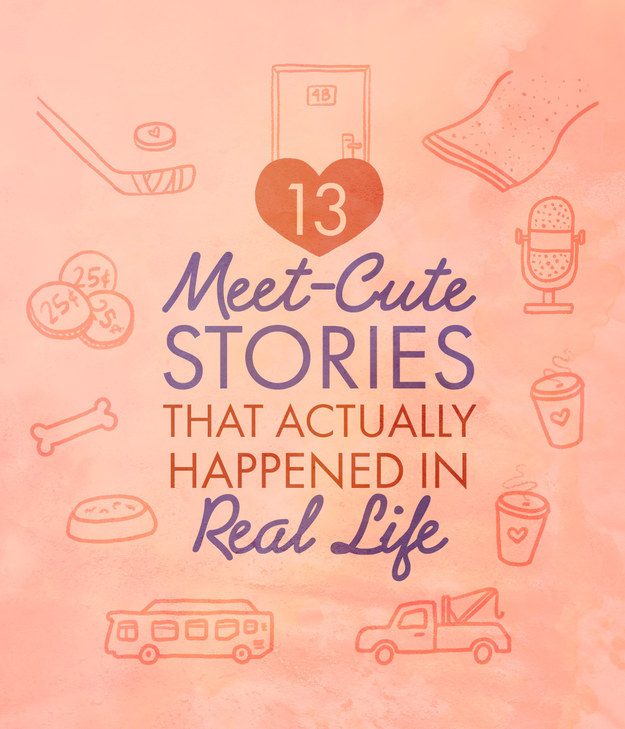 Alice Mongkongllite / BuzzFeed
"On the Metro ride home one night, I made eye contact with a gorgeous young woman on the platform. I went back to my phone and didn't think much of it, but she came and sat next to me. Nervous, I didn't say anything. After several stops, she asked if the train was going to a certain stop. I gave her a quick, 'Yeah, the sign is over there,' trying to avoid being the creepy passenger that's more interested in the person than providing directions. She was persistent and kept asking questions. I gave her my business card before I got off the train and she pointed out that my cell phone number wasn't on it. We went out the next night and had a great conversation. We've been dating ever since.
P.S. A few days later, she admitted she knew *exactly* where she was going that day."
-- Jordan Uhl, Facebook
"I had just finished training as an Army musician and been posted to my first band. When I'm nervous I lose my appetite, so I hadn't eaten much before my first engagement, which involved standing on a parade square for about an hour and a half. Needless to say, I blacked out and one of the other musicians saw me swaying and caught me and my saxophone before I fell. It took three men to carry me off the square, and the first person I saw when I came around was the musician who caught me. We've been together 10 years now and married for eight!"
-- claireg455b41447
---
Yeezy Season is upon us.
Yesterday, Kanye West sold out Madison Square Garden for a fashion show debuting his Yeezy Season 3 collection with Adidas.
Dimitrios Kambouris / Getty Images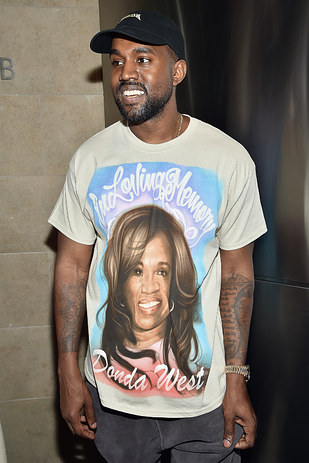 Dimitrios Kambouris / Getty Images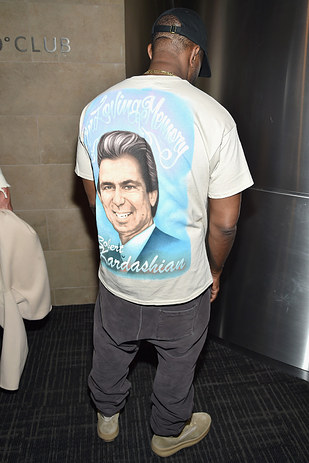 Dimitrios Kambouris / Getty Images
---
Advice just fur you.
Weird but sometimes wonderful too!
Waiters asking you if everything is ok all the time. In France, waiters will usually leave you alone even if you don't want them to - sometimes, you will literally have to scream for help for them to notice you.
The obsession with icy-cold water. No matter the season, American restaurants seem set on serving only icy-cold water. My American friends told me that's because it's "more refreshing," but who would want a brain freeze in December??
Joris
Same thing with the AC. Why do you guys love the cold so much? And when you go from 90 degrees outside to 20 degrees inside a supermarket in the summer, isn't it a lil bit too much?
Metro-Goldwyn-Mayer / Via vodana.org
Tipping. All this math at the end of a meal is just cruel.
Warner Bros. Pictures / Via Twitter: @TheGum25
---
"Can you ever just be whelmed?"
Kat made us believe in strong female characters.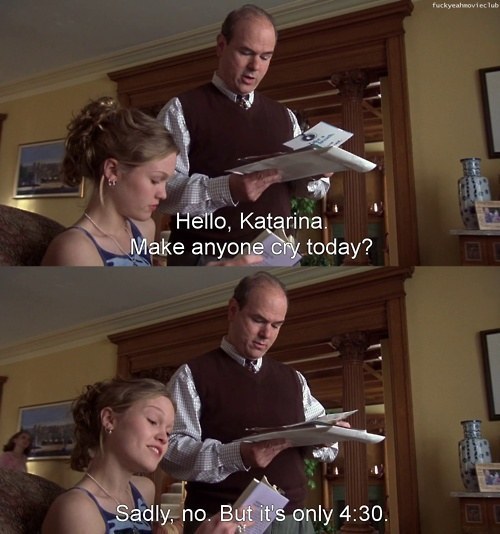 Touchstone Pictures
And Patrick was the perfect foil.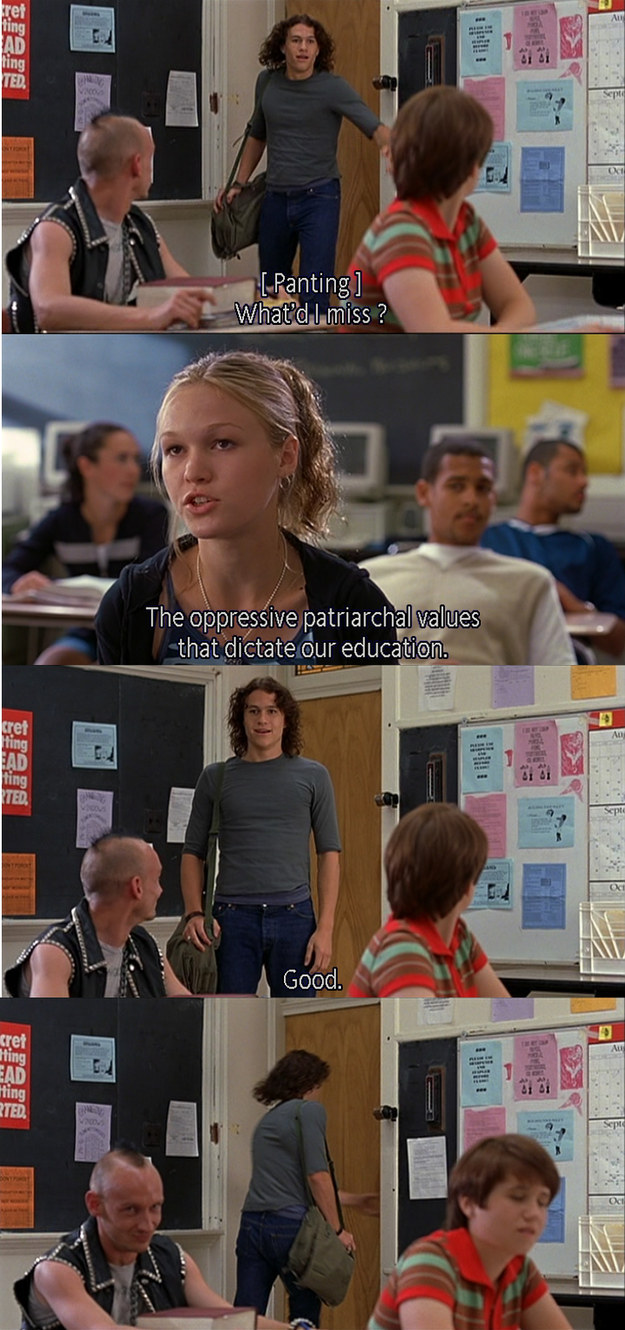 Touchstone Pictures
Honestly their flirting was on point.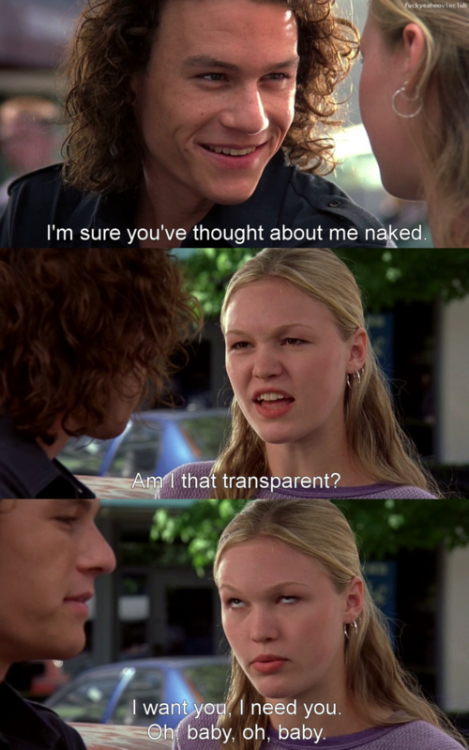 Touchstone Pictures
Kat had the best comebacks.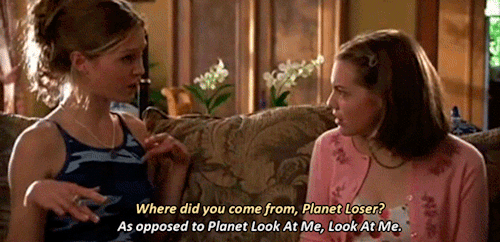 Touchstone Pictures
---
Insert food in absence of valentine.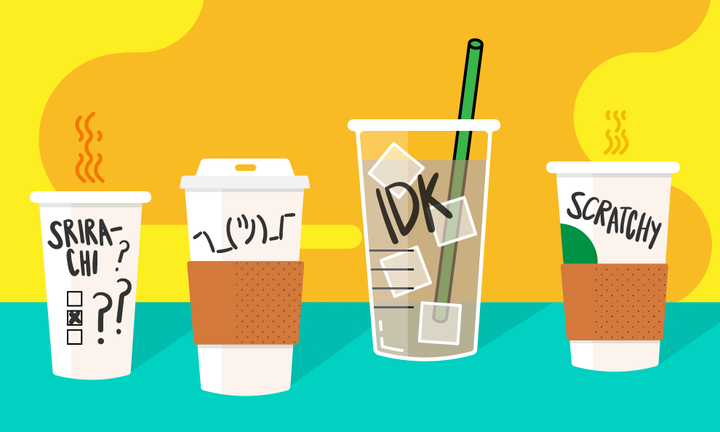 Michelle Rial / BuzzFeed News
I know my name is weird. I know it's weird because wherever I go, people say it's a name they haven't heard or seen before. Since kindergarten, teachers would furrow their brows while taking attendance, struggle to read my name aloud, and inevitably come up with different incarnations: Skatchy, Scratchy, Satcha, Skatty. This would be followed by a knowing sigh from me and a "No, ma'am, let me help you, just cover up the C and the A in my name." Scaachi becomes Sachi and then you know how to say it. I know it's hard. I'm sorry. I'm sorry.

I know it's weird because Uber drivers ask me where my name is from, and then they ask me where I'm from, and then they argue with me when I tell them "the suburbs of Canada's Prairies." I know it's weird because drunk girls at bars whose hair I've had to hold while they cry and barf in dingy bathrooms ask me for my name, and when I tell them, they always say, mid-hurl, "Oh, that's pretty, are you Italian or something?"
But I know it's weird because even when I'm with people who, culturally, should understand my name, they tell me it's weird, too. They know I'm Indian -- they can tell from the slope of my nose and my common last name, the way my baby hair swirls on my forehead -- but my name still doesn't make any sense to them. That's how you know your name is really a newfound oddity: when the very people you're usually associated with do not know what in the hot hell you're supposed to be called.
When my family and I went to India late last November, I knew airport security would ask me probing questions about the stamps in my passport and whether my tube of lip balm was an actual tube of lip balm. I knew the elderly Indian man sitting next to me on the plane would ask me to repeat my name three, four, five times before settling on calling me Sanchi for 13 hours. I knew my entire family would largely ignore my first name and call me a collection of Hindi nicknames, ranging from real words (Rani, meaning "queen," to Bubari, meaning literally nothing). It was our first trip together as a family in 15 years; last time we went, all but one grandparent was alive and excited to host us, my brother was in his early twenties, and I was 10. This time, all my grandparents were dead, my brother had two extra pieces hanging off of him (his white wife, and their half-white daughter with a full-brown name), and I had allowed myself the foolish notion that I was an adult within my family. We don't go to India very often, and the last few times my parents have gone, it's been because of deaths, each time coming home a little smaller, a little more prone to weeping. This time, at least, it was for my cousin Sweetu's wedding.
We were only a few days into the trip when my sister-in-law, Ann (of course her name is Ann, like it hardly merits trying), mentioned that it drives her crazy when people say my name wrong. "Wrong how?" I asked. I am, I think, an expert at collecting the various mispronunciations of my name, categorized from the intentional to the casual mistake.
"They say it Sa-chi instead of Sahh-chi," she said. The former version has a wider A, like "scotch" but with an A and forget the C. The latter, though, is a smoother, longer aww sound for the two A's, the "chi" sounding like chee. She said it a few times. Sahhh-chi, the A's sounding softer and more British coming out of her mouth. Sa-chi, the incorrect version, is what I've always given to strangers: It's the easiest to say to a Starbucks barista and the easiest to offer an employer. When people say my name incorrectly, as they tend to, it's easier just to say yes, you know what, you're right, because I am tired, and there's no one with my blood around to correct me.
On our trip, I listened to my parents, my cousins, my aunts, and my uncles say my name. I rarely hear it coming out of the mouth of a brown relative because so rarely am I referred to my by name: Instead, I get some nickname, something like Guguli or Gugaloo or whatever other version of gargling is used to indicate that I am being beckoned. But when I heard them say my name, it never sounded like the one I use back home. Theirs is that softer, British version, and though I have no real attachment to the pronunciation of my aforementioned stupid name, I felt guilty for warping it for so long.
My mother will deny that I was born a mistake, an accidental pregnancy when her other child was nearly in junior high, but she, like most mothers, is a liar: She was nearly 40 and preparing for a hysterectomy when her doctors told her she was pregnant. I was a crummy pregnancy -- and born a jaundiced baby with a lazy eye and one ear folded over itself like a sad dog -- frequently brought up when I cause my mother anxiety as an adult.
My grandmother named my brother 12 years earlier, a religious name that's blessedly phonetic so it all worked out when they moved to Canada. Born in North America, I was the first truly Western child in the family, and so my dad did what he could to set me apart. "Billions of children are born every day and you are just another child," my dad said. "I tried to make it a little different. Hopefully you do something different in your life."
My dad liked the name Savyasachi, one of many names for a religious figure who could handle his bow and arrow with both hands. My dad shortened it, added a few letters, and gave it to me. So, my name means "ambidextrous," despite my not being ambidextrous, and has the added bonus of sort of being made-up. "I should have called you Uma," he tells me now. "Uma Thurman, she has an Indian name. She had some marijuana-smoking parents, some momentary Indian thing these white folks get into, and they wear beads and say 'namaste.' If another white person says 'namaste' to me, I will break their arms. Anyway."
Anyway.
My dad left India in the late '70s, before I was born, when my brother was 2 or 3. His name is Vijay -- "vih" and a soft J, but naturally, white people call him Vee-Jay, like he's some VH1 icon. My mother's name is Mona, or at least it is now: Years ago while rooting around my dad's office, I found immigration paperwork for a "Bimla." Before I could jump to the conclusion that my parents had a daughter before me and she died in a horrible house fire (perhaps started by my brother -- this is why he is so secretive), they explained that Bimla was my mother before she became Mona: Her name was changed once they moved here.
"I did that," my dad told me recently when I asked again. "I hated her name. Bimla is a name given to old ladies."
"So you just changed her name?" I asked him. "Why did she let you?"
"I am all-powerful."
First-generation children, particularly nonwhite ones, particularly ones who come from regions where giving anglicized names are not tradition, end up defined by their peculiar monikers. The process of explaining, correcting, spelling, slowing down and spelling again -- all of that ends up ingrained in whatever identity you carve out. So many parts of my person, namely my immediate jump to tell you how wrong you are and my inability to enjoy almost anything, feels inextricable from my dumb name.
Things inevitably get lost when your parents move from one country to another. The first loss is bodies: people you'll never meet, people you'll never really get to know. When we visit, an endless parade of aunties and uncles grab my face and tell me, in Kashmiri, a language I can barely understand, that they saw me when I was 18 months and boy, I am so big now. A relative picks up my niece Raisin and marvels at how she looks like my mother. Everyone knows us, and yet, we know no one.
I barely know my cousin, Sweetu, who's getting married (Sweetu, of course, is a nickname that's taken precedence, like so many others), but she is my favourite person at the wedding. In quiet moments, she'll run her fingers down my hair or squeeze my neck or say something like, "This whole country is backwards and the sooner you get it, the better you feel," followed by the very calm action of shoving a sweetmeat into my mouth. When she says my name, it sounds like butter sliding off the facade of a stack of pancakes, or like someone telling you a good secret. The A's are smooth and long and the "ch" doesn't sound so harsh as it always does in my head. I like hearing her say it and I imagine she says it the way it's supposed to be said. No one says my name like Sweetu, so I follow her around for most of the wedding, waiting to hear her say it again.
No one says my name like Sweetu, so I follow her around for most of the wedding, waiting to hear her say it again.
Because the next thing you lose when you're first-gen is language. If you speak it, like my Canadian-living cousins do, you know your version of the language will never be as nuanced as it is for your parents. And if you can only understand it, like my brother, you know you can never really participate in a conversation. If you can barely do either, like me, then maybe you understand enough to lace together sentences and meanings and insults. Or, if you understand none of it and speak none of it, like my niece, when you see all these people who purport to love you, you have no way of telling them you love them back.
Which is maybe why I like hearing my family say my name so much, and why I feel so stupid for pronouncing it wrong all this time. The change is subtle, likely one only I hear, but it's enough to remind me that I don't live in India and I don't really make sense anywhere else either. I like hearing an authentic sound.
My niece has the appearance of a white person -- porcelain skin, big blue eyes, curly brown hair -- but her first and last names are deeply Indian, Hindu through and through. It's actually the name my mother wanted to give me, and comparatively, it's so simple and uncomplicated that sometimes I get angry at all these needless vowels. My niece's names, frankly, are the only indication that anyone in her family comes from another place. I wonder if it'll ever feel like a problem to her, the way it did for me. I want her to grow up to like her name. Above all, I want her to grow up to like herself.
I call her Raisin, because she was a purple mess at birth, and she calls me Boo, because that's just what it's always been. We've given each other two easy-to-pronounce indicators of identity that only we get to use, nicknames that have bypassed our real names, just like the rest of the family has been doing for generations. (Now my friends call her Raisin too, and other little kids around her call me Boo.) I asked her once if she wanted me to use her real name and she said no, not yet. She asked me if I wanted her to call me "Bua," the Hindi term for your father's sister, and I said no, because I like the childish simplicity of her little head poking into a doorway to say "Boo!" Besides, if a name is supposed to mean something, if it has to mean anything, I'd rather it be a name given to me by a sloppy baby who just couldn't pronounce anything else. It makes me feel like I'm home.
If our names aren't links to a past we can't touch, at least they can tether us to each other.
Ever since we came back from the trip, I catch myself catching myself. I stumble at Starbucks now, spelling my name for these stupid little cups, pronouncing it slowly like I'm still getting using to it. My friends are noticing too, when I introduce someone and my voice registers a bit lower as I try to imitate Sweetu's pronunciation. Even when I think I'm saying it right, the way my parents say it, I feel like a fraud -- I don't have this accent, I don't know this language, where do I get off being precious about it? Or, rather, even more precious? And what do I do with all the people who say my name wrong but have been otherwise told by me that they were right? Do I correct my boyfriend? I have known him for nearly five years, so what is the right way of saying "I know you think you're right, but turns out, I was wrong"?
Without noticing, I let the white people I've been raised with dictate the way my name is pronounced. It was always easier. I didn't attach to any of my parents' sounds when saying my name. Now the sound follows me everywhere, or rather, its absence. Everyone says my name wrong now, even when they think they're saying it right, and it's my fault.
Without noticing, I let the white people I've been raised with dictate the way my name is pronounced. It was always easier.
India is a hard country to navigate, arguably harder when you're an actual brown person trying to visit your family. You live in those gaps: gaps where people have died and you lose relations, gaps where people don't speak English and you don't speak Hindi or, for us, Kashmiri, gaps where these people want to tell you they love you and they don't know how. Raisin gets mad when they call her katsur -- roughly translated, meaning "golden-haired," though she is a brunette. What she doesn't know is they're trying to tell her they love her in the way only your blood can, foreign or not. They don't have the words, so instead, names are all they can give. Come here, golden-haired, come here and let me look at you before you're gone.
My mom's sister doesn't speak any English, but she is the last vestige of my mother's side. My mother and her brother are estranged -- I don't know his name, nor the names of any of his daughters. I can't remember my grandparents' names and only barely remember my mother's maiden name. But my mom and her sister are always holding each other for long stretches, whispering to each other in Kashmiri, words none of us can grasp, local dialects and colloquial terms. When she turns to me, she'll ask a few basic sentences that I can understand, questions that are actually framed more like accusations: "When are you getting married," or "Don't you think you look like your mom," or "Why won't you eat more." I just nod my head because I don't have the ability to respond with any complexity.
And since we couldn't communicate, and she couldn't tell me whatever she might have wanted to, she mostly wrapped her fingers around my face, brushing my hair away from my eyes, saying the only thing she is sure I will understand: "Scaachi, Scaachi, Scaachi," elongating the A's as she goes along. "Scaachi, Scaachi." No one else says my name like she does. I can't get anyone else to replicate it -- not my mom, not the aunts that I have in North America, not well-meaning white people who pronounce my name "correctly." Nothing sounds like your aunt, with no other resources at her disposal, saying your name over and over and over again, a name you grew up resenting, turning it into something that can only possibly make sense to the two of you.

Scaachi Koul is a senior writer for BuzzFeed and is based in Toronto.
"Take my picture!" *looks at picture taken* "TAKE IT AGAIN I HATE IT".
A daily selfie is your daily affirmation. Today you look great.
E!
Sometimes though, a selfie just won't do, so you're always getting other people to take pictures of you. "Take a pic of me please, I need the world to see this".
Dimitrios Kambouris / Getty Images
Whenever you pose for the camera, you pull your "signature move". Paramount
---
Kristen Wiig for MVP.
Last night, Kristen Wiig a I mean, Peyton Manning a stopped by The Tonight Show and gave some insight into who the *real* Peyton is.
Sure, they chatted about the Super Bowl for a bit. Like, what was going through Peyton's head those last few moments of the game.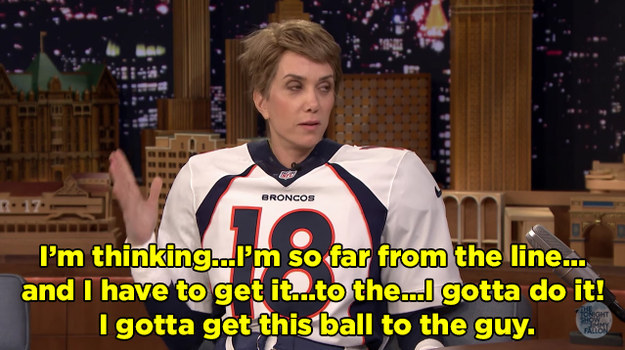 NBC / Via youtube.com
And how happy he is for his teammate who won Most Valuable Player.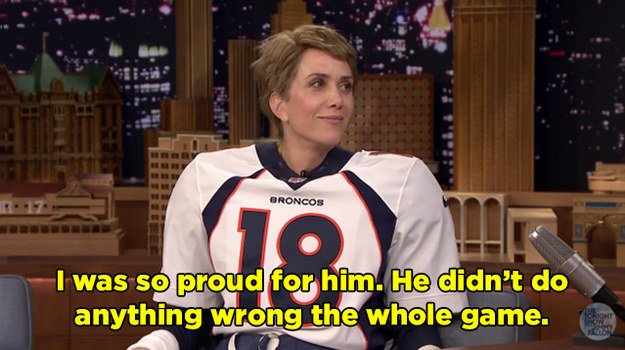 NBC / Via youtube.com
But it was the rapid fire round that brought out the more interesting side of Peyton. He revealed his fave pre-game meal...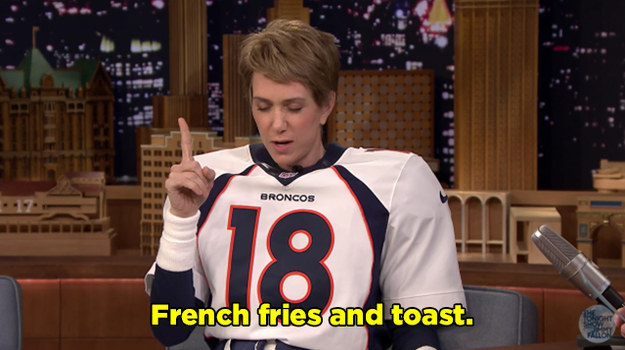 NBC / Via youtube.com
---
Blood must have blood. Like, a lot of it. MAJOR SPOILERS for the entire series, including the Feb. 11 episode.
Jasper got a spear through the chest. "Pilot" (Season 1, Episode 1)
The pilot of The 100 ended with a bang -- or, uh, a spear -- when Jasper (Devon Bostick) was nearly killed by Grounders. (He totally died, actually, but that got retconned when the producers realized they liked having Bostick around. But the series quickly stepped away from fake-out deaths!)
The CW
Clarke mercy-killed Atom with a knife in the throat. "Earth Kills" (Season 1, Episode 3)
Atom (Rhys Ward) had been exposed to Acid Fog, so Clarke (Eliza Taylor) was doing him a solid here. Still: yikes. Lots of mercy killing on this show!
The CW
Charlotte murdered Wells. "Earth Kills" (Season 1, Episode 3)
Hey, remember when one of The 100's main characters got killed by a little girl in the third episode? Charlotte (Izabela Vidovic) clearly wasn't in her right mind when she stabbed Wells (Eli Goree) in the neck, but it was seriously upsetting regardless.
The CW
Murphy got hanged for killing Wells. (And survived.) "Murphy's Law" (Season 1, Episode 4)
Yes, Murphy (Richard Harmon) made it through his ordeal and was eventually exiled (and then brutally tortured offscreen). But the hanging scene was still one of the more distressing examples of mob violence in The 100's first season. And he didn't even kill Wells!
The CW
---
SLAY.
Adele, queen and ruler of the universe, is currently gracing the cover of Vogue looking flawless as hell.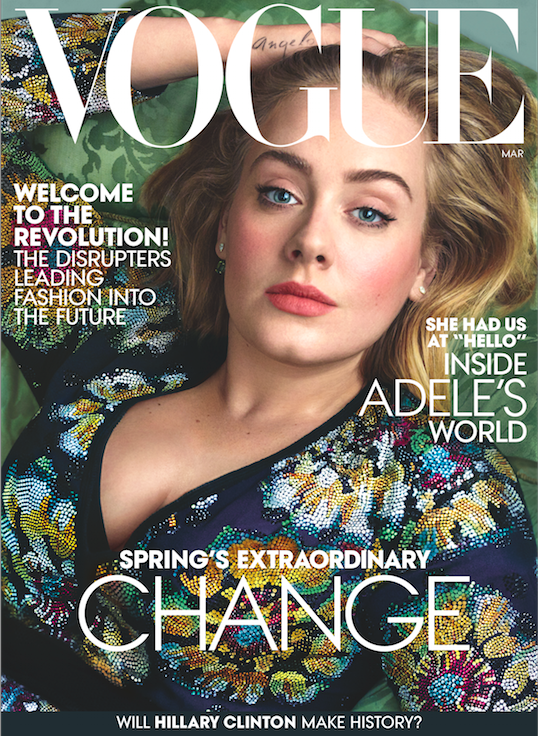 Annie Leibovitz/ VOGUE / Via vogue.com
Here she is casually lounging on a fancy couch like a damn victorian queen.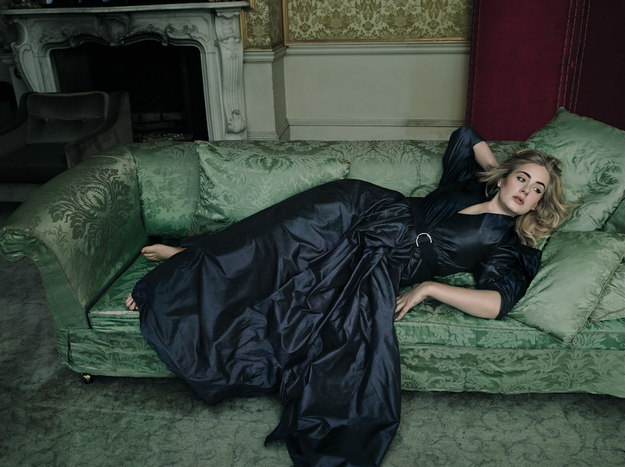 Annie Leibovitz/ VOGUE / Via vogue.com
And here she is again effortlessly slaying all of our lives.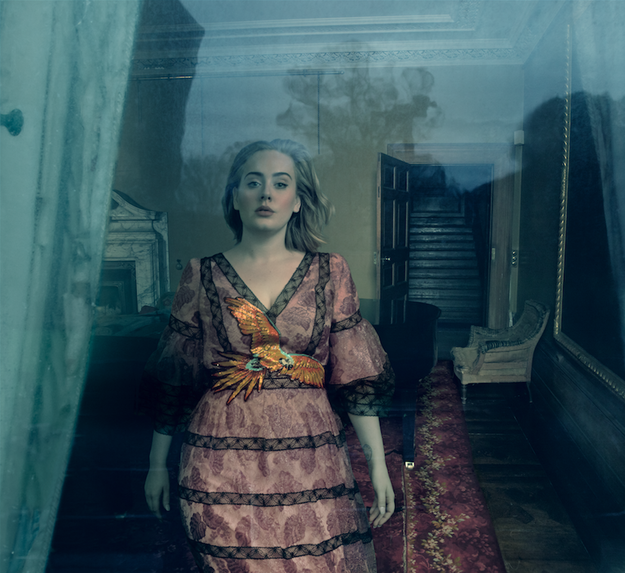 Annie Leibovitz/ VOGUE / Via vogue.com
*Bows down forever*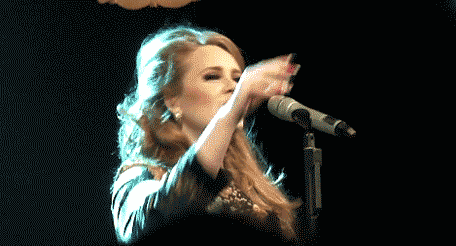 Keep killin' it, Adelegend.
---
A!(H)OlA(c)!
Pope Francis celebrated his first official visit to Mexico by donning a very special sombrero.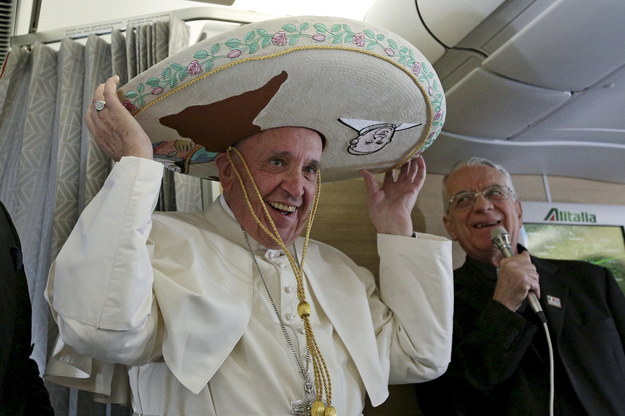 REUTERS/Alessandro Di Meo/Pool
Following a brief stop in Cuba to meet with Russian Orthodox Patriarch Kirill of Moscow, the pope will land in Mexico City on Friday and spend the next five days traveling through the country. His packed itinerary includes a prison visit and a mass in the violence-plagued Ciudad Juarez on the Mexico-U.S. border.
The hat was presented to the pope during the flight from Italy to Cuba by veteran Holy See Press Corps reporter Valentina Alazraki of Mexicoas aTelevisa.a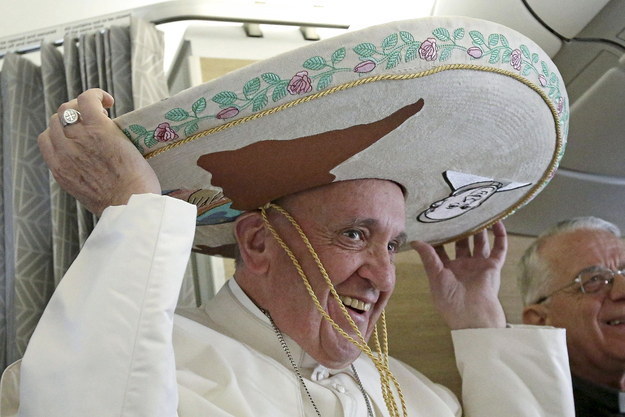 POOL New / Reuters
Pope Francis appeared to be delighted with his new hat in this Vine captured by one of the reporters.
---
A true gift from the heart.
Meet Bryan Ames, 34, and Marisa Henderson, 26. They first met through home renting site Airbnb back in 2012, when Bryan was one of Marisa's guests in her Florida home. Now, four years later, they're on a seven-month journey around the world together, funded entirely by renting out their shared Boston apartment on Airbnb. They're also renting out that apartment for free to other couples on Airbnb who may not be able to afford to travel together otherwise.
Marisa Henderson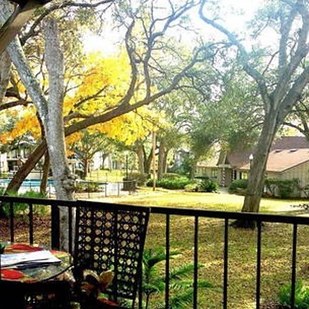 Marisa Henderson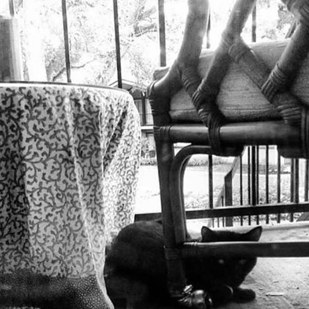 Marisa Henderson
---
You're gonna wish you had 28 phones.
This flirty minimalist message: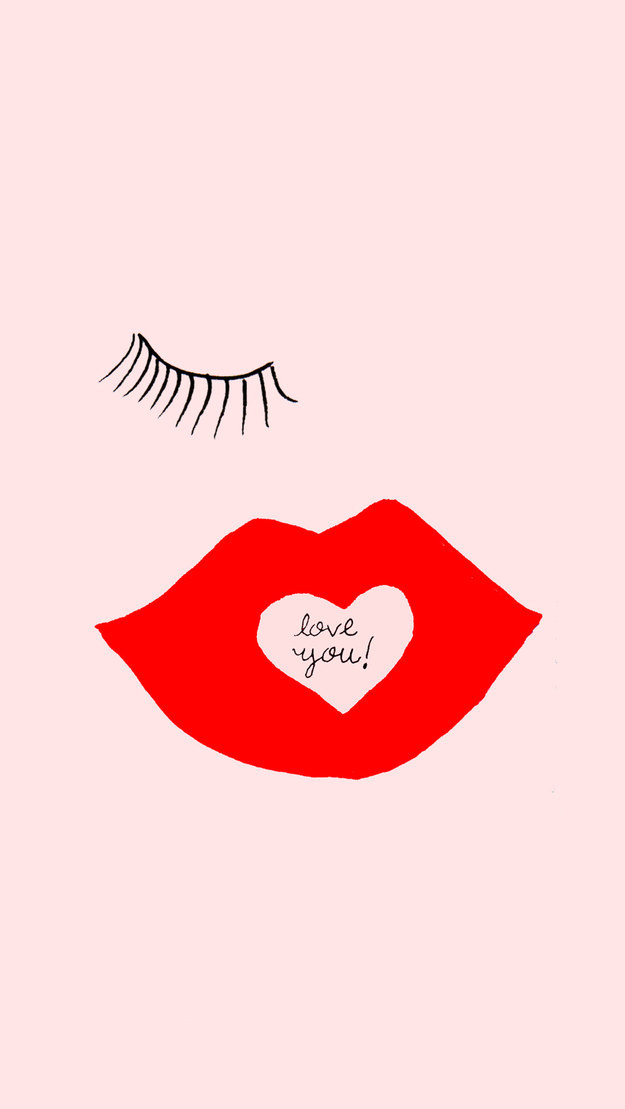 You can download it here.
This little dude breaking out his *sun*day bests: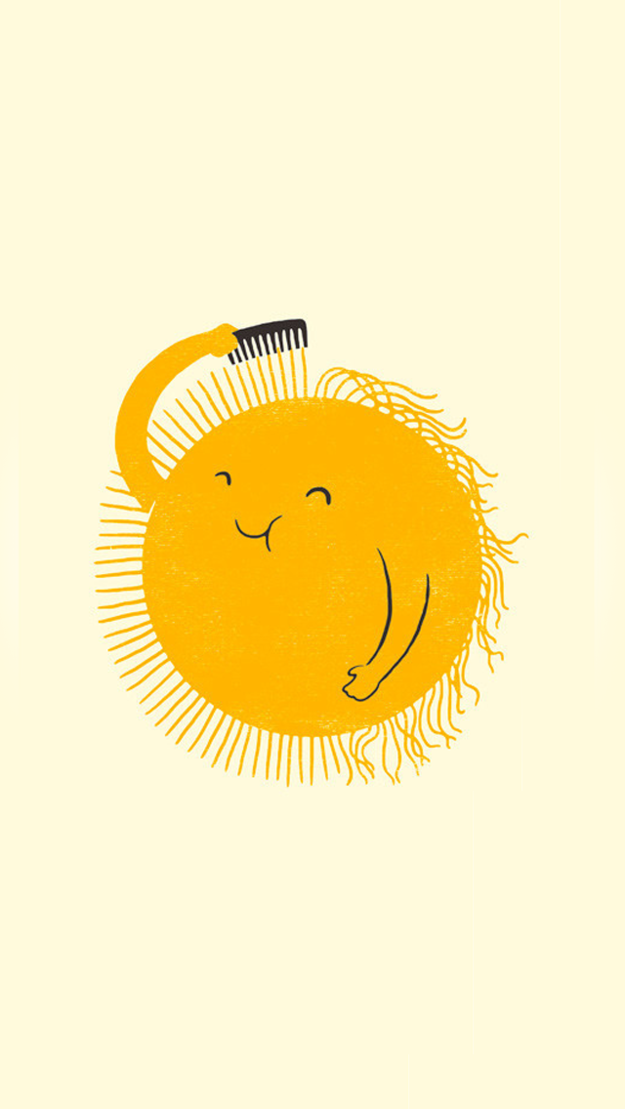 Click here to download it.
This friendly reminder to do whatever you damn well please: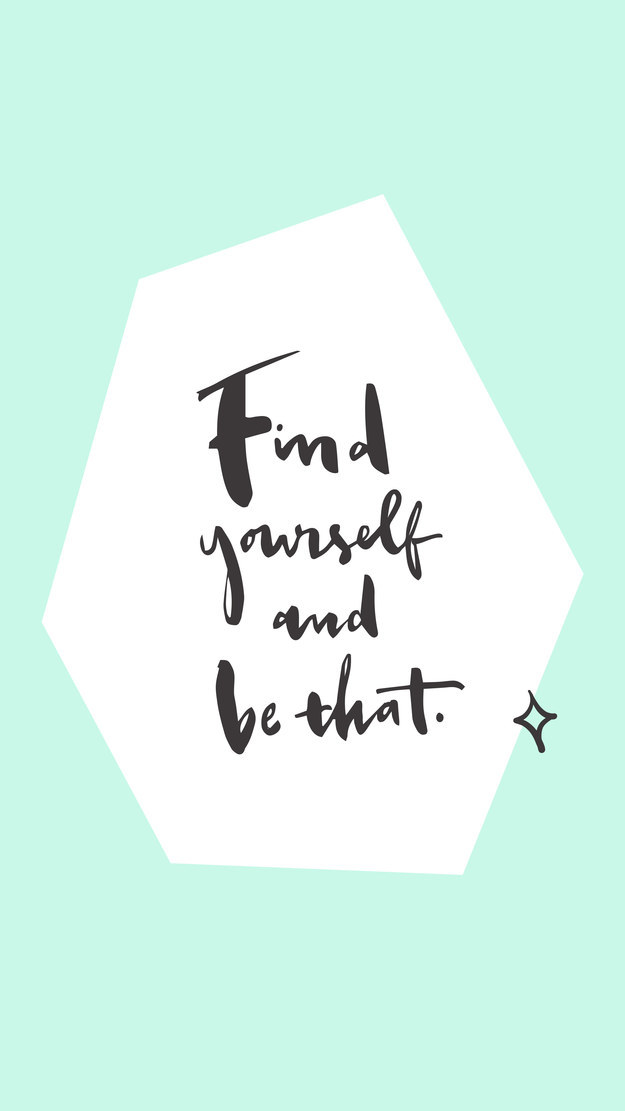 This was designed by Jinny Park for her blog Something Peach.
Get it here.
Some soothing watercolor:
Download it here. This is also from the blog Something Peach and there are desktop and iPad versions to (~score~).
---
"Is four people too many to bring to my IUD insertion?"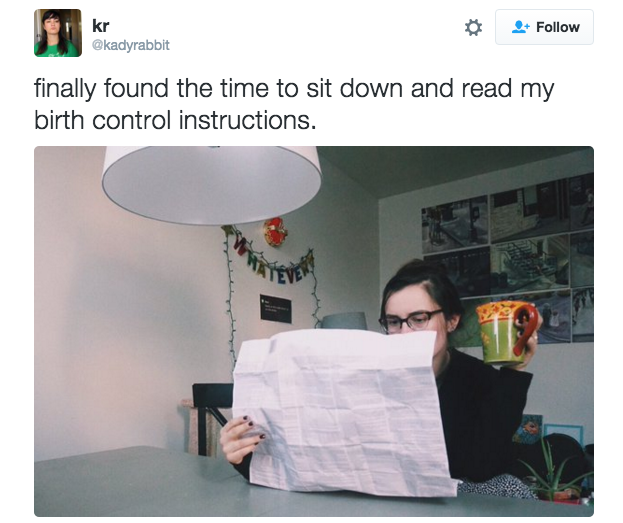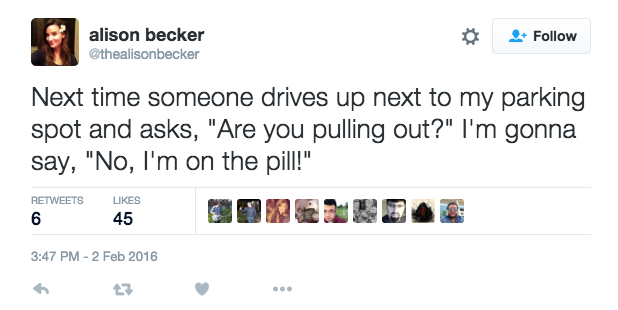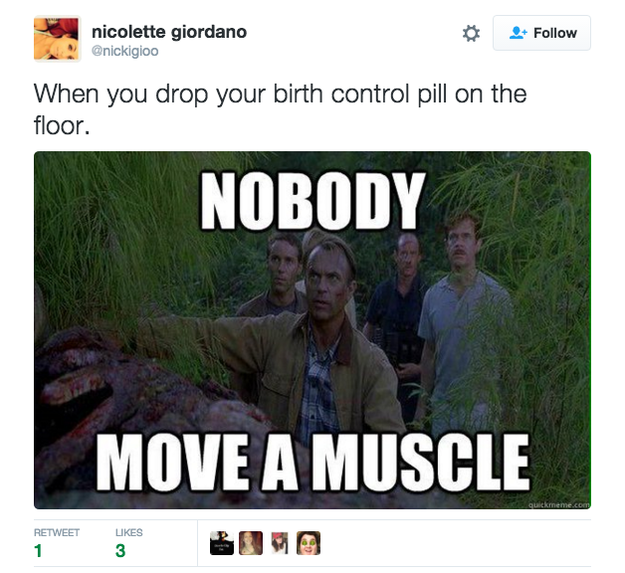 ---
May the fork be with you.

Andrew Richard / BuzzFeed
We hope you love the products we recommend! Just so you know, BuzzFeed may collect a small share of sales from the links on this page.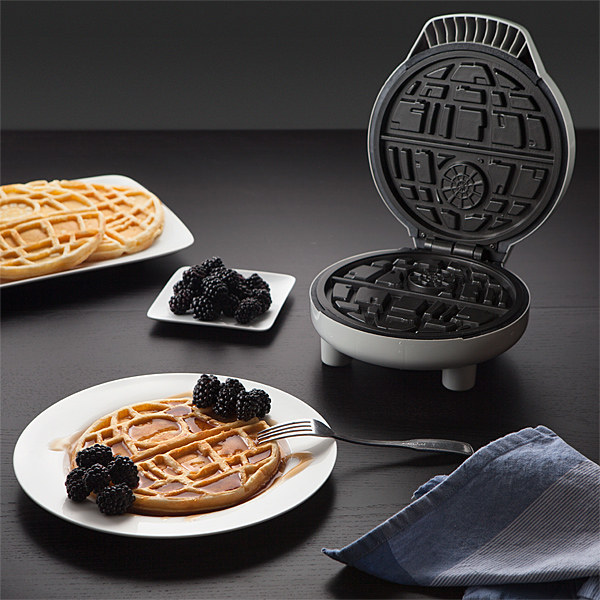 Get it here.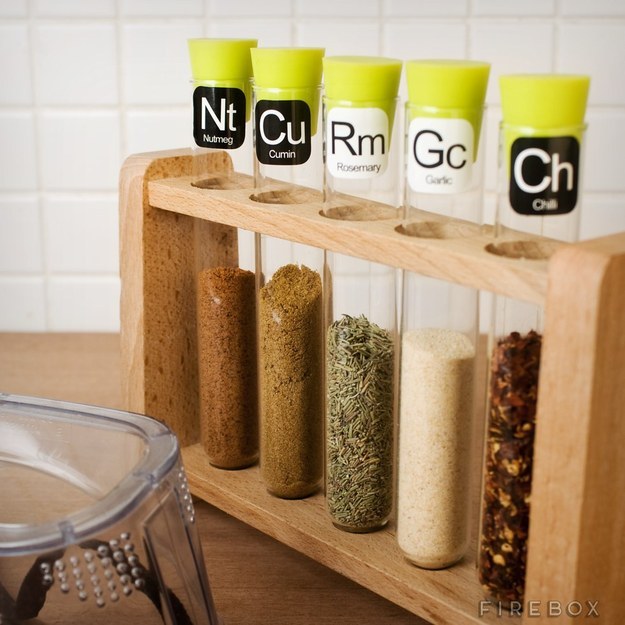 ---
Brand new BFF goals.
Yesterday, Caitlyn Jenner was one of the many family members in attendance at Kanye West's Yeezy Season 3 fashion show. Everyone in attendance was even lucky enough to hear his new album.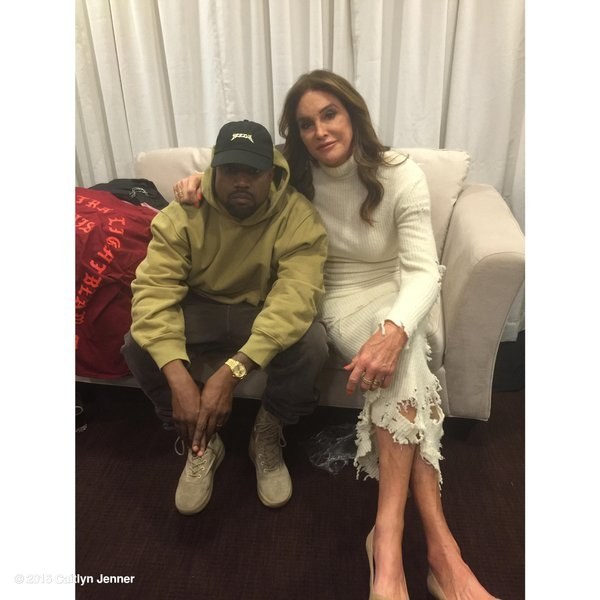 Lil' Kim was one of the many non-family members who also showed up to celebrate Yeezy.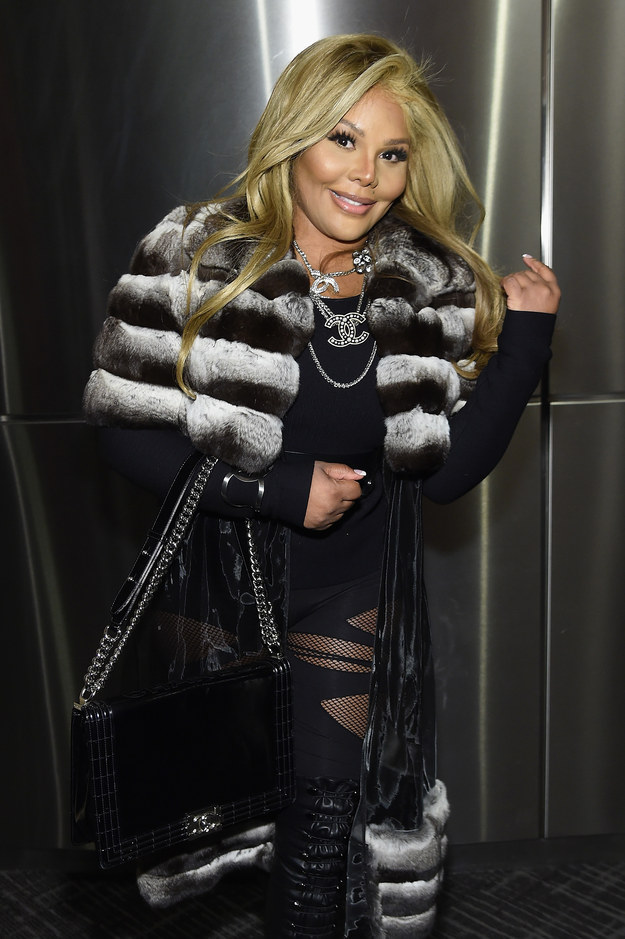 Jamie Mccarthy / Getty Images
Kim Kardashian West wasn't shy about how much she enjoyed Lil' Kim's company.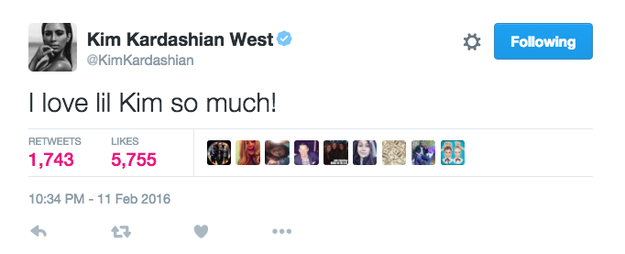 And it looks like the feeling is mutual.
Via Twitter: @LilKim
---
Anxiety is your Everest, and by simply getting through the day you're getting closer to the summit.
Making small talk is a literal hell.
Jean-Paul Sartre was only half right when he said, "Hell is other people." For someone like me, hell is other people and a slow elevator ride. Hell is other people and a wait by the coffee machine. Hell is small talk.
It has nothing to do with being antisocial, or having no interest in others. It has everything to do with an overbearing voice in your head screaming things like "omg, this is so awkward", "lol, look how uncomfortable this is", and "say something cliche about the weather, I dare you."
If I could chose one superpower beyond the obvious choice of flight, without a question I'd choose the ability to make excellent small talk. Hell, I probably wouldn't stop many crimes, but I'd at least be able to make passing conversation with a criminal while they're robbing a bank or something - and for me, that'd be a victory.
Large groups of people are especially terrifying.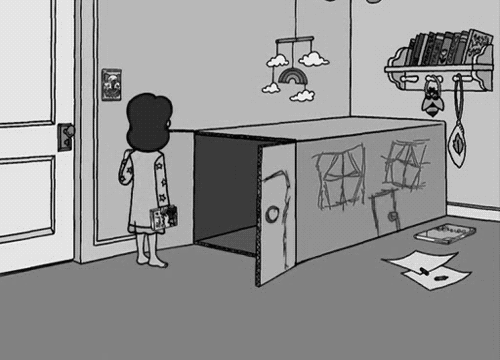 Every day can feel like your first day in a new school, as if you're trapped in some kind of horror movie version of Groundhog Day where you never quite feel fully comfortable around colleagues.
I tried to overcome my fear of groups on an office away day by joining the outside of a circle of people I'd never spoken to at work before. I stood there awkwardly nodding and laughing along with the group, trying to act as if I belonged. It took me a whole seven minutes to notice they were actually tourists who weren't even speaking English.
So if ever you feel bad about how you appear to a group, take solace in the fact they're probably not Spanish holidaymakers wondering why you've chosen to interrupt their drinks.
MTV
It can be seriously mentally exhausting.
Just trying not to let your anxiety get on top of you can feel like an extra job itself: It's exhausting.
One small mistake and in the span of an hour I'm looking for a new job, worrying about not being able to find a new job, and panicking that I won't be able to afford my rent, which will result me in living on the streets of London. I can't survive on the streets of London, I'm from a small town in Wales; I can barely survive in the houses of London. So essentially that typo this morning has gotten me killed - today is not shaping up to be a good day. This kind of logic whirls its way around my mind almost 24/7, creating tragic stories worthy of a Lifetime movie.
Then there's the damn meds, with a list of side effects long enough to keep you busy until Frank Ocean drops a new album. Tiredness, drowsiness, and difficulty concentrating are all part of the fun that comes with the very thing that's meant to be helping you. The fun never ends.
Anxiety can come with physical symptoms, not just mental.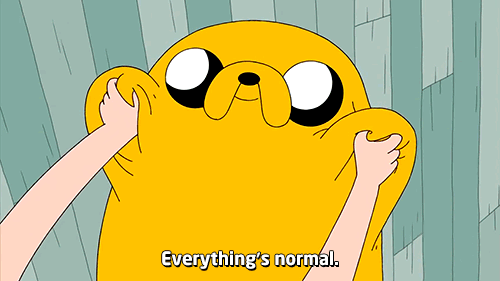 I pretty much spent the whole first week of my current job having panic attacks in the bathroom. I can only imagine my managers thought they'd hired someone with an undiagnosed bowel illness or a severe coke habit - I'm hoping on the latter.
And it's not just panic attacks that are visible to outside observers. I have the super annoying habit of shaking my leg uncontrollably when I'm anxious - I don't even realise I'm doing it until I've tap-danced half the Riverdance.
While sometimes it's possible to mask your inner turmoil with a smile, unfortunately there's not always a way to hide what's happening on the outside. Sometimes you've just got to do your dance, and hope not too many people notice.
Cartoon Network
---
SO PRETTY SO PINK
Middle Eastern Beet & Yogurt Toasts
Barbie would eat this up. Recipe here.
Thomas Winslow / Via camillestyles.com
Beet Hummus
This hummus can't be beet. Recipe here.
Kim / Via kimscravings.com
Beet Crust Pizza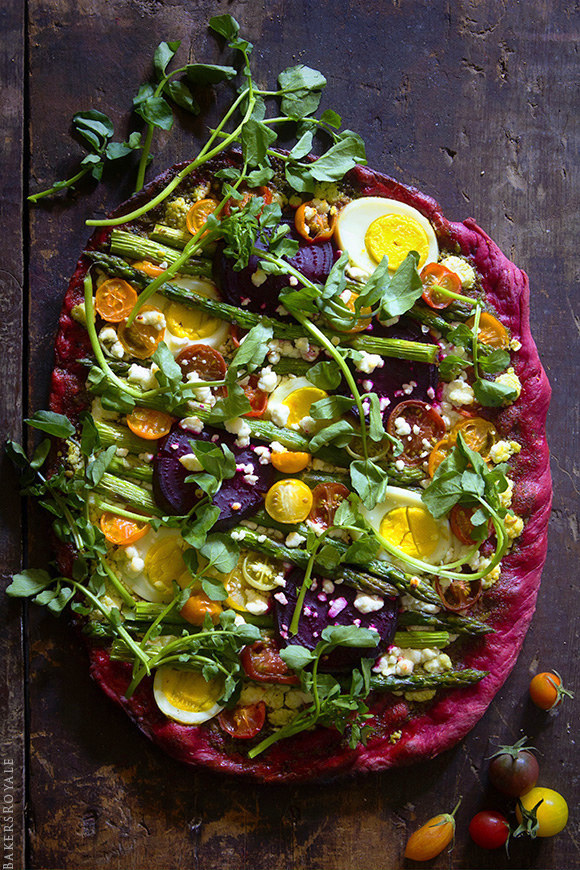 My heart is actually fluttering. Recipe here.
Naomi Robinson / Via bakersroyale.com
Beet Gazpacho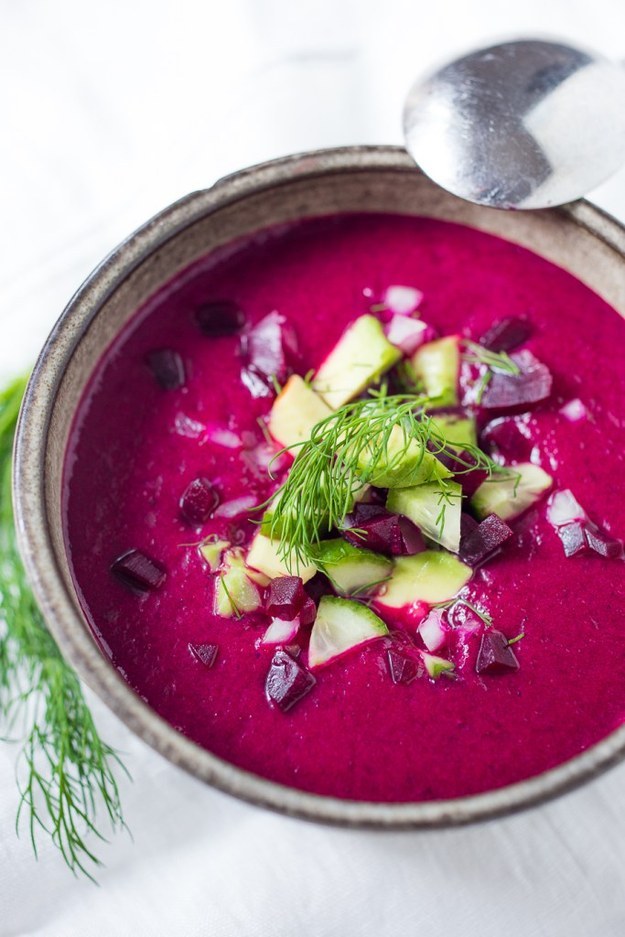 Did you know that beets are considered to be an aphrodisiac? Yep. So enjoy this gazpacho and the rest of your evening. Recipe here.
Sylvia Fountaine / Via feastingathome.com
---
I love you. Or do I?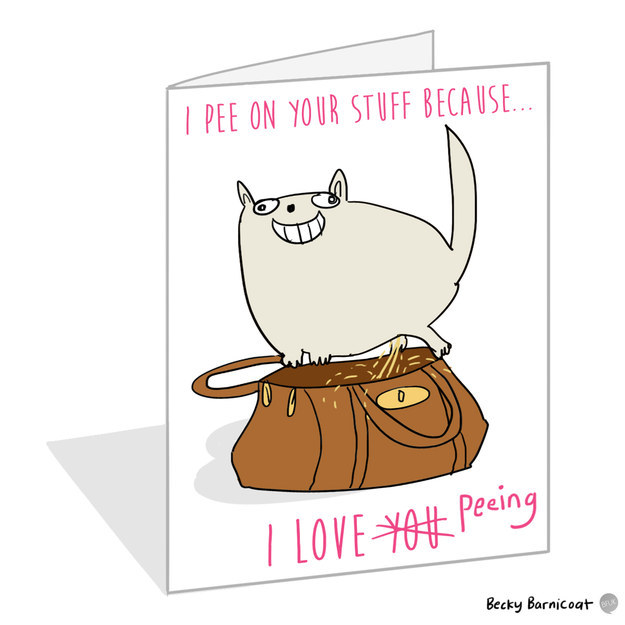 Becky Barnicoat / BuzzFeed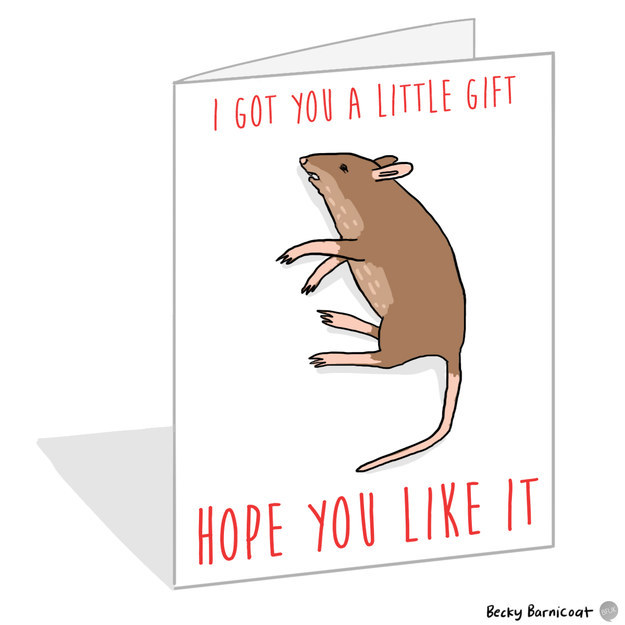 Becky Barnicoat / BuzzFeed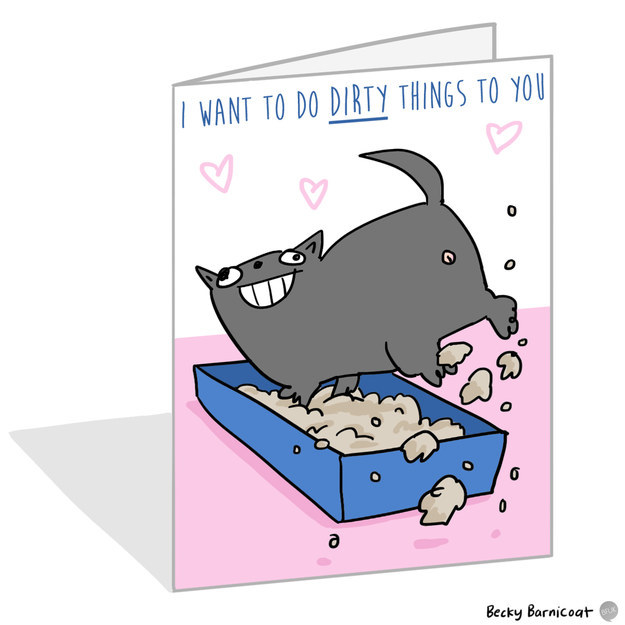 Becky Barnicoat / BuzzFeed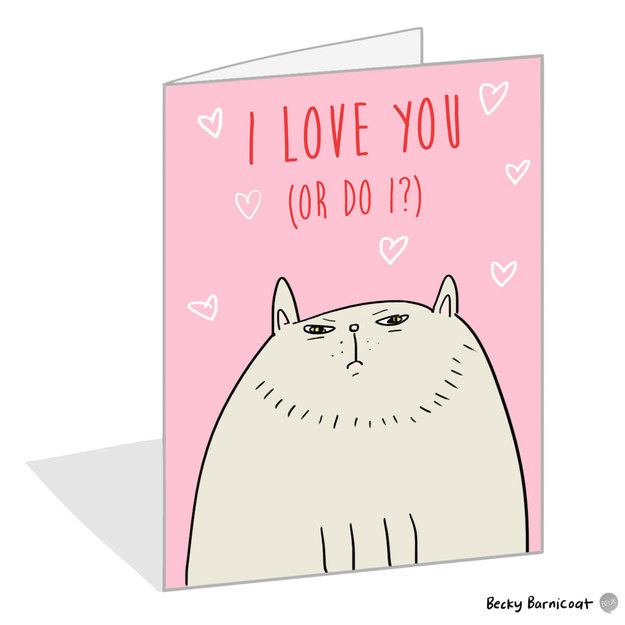 Becky Barnicoat / BuzzFeed
---
Load More